Grandmothers
Johanna Ackva, Nagao Akemi, Evelyn Saylor
As a performer and choreographer, Johanna Ackva's interest lies in the material, sensory, affective, and political dimensions of the relationship between self and world. Exploring, (re)negotiating and sharing the specific, private or even seemingly banal of concrete experience, making it visible as included in larger contexts, is a central concern for her. Since 2014, her collaborative works have touched on themes such as work and its value (The Agreement), experiences of natural deserts and loneliness (Salt Lake), constructions of femininity (Women and Watery Men, EARTHBOUND SQUATTERS), friendship (haunting heroines, bluefold), or the theme of death and finitude (Out of Our Hands, Untitled Solo, CLOUDS ON CLEAR SKY). In 2017, Johanna co-founded the Berlin dance collective Suddenly and since 2019, she has been part of the Denk- und Produktionsort Libken (Uckermark).
Nagao Akemi is a choreographer and dancer. Her artistic interest lies in the conflict between social issues and the body, between words, images, sensations, and emotions. Her latest pieces, B OR D ER S?, JUICY ♡ METAMORPHOSIS and DIAMOND - The Crossing Point of Money and Spirituality negotiate taboo subjects such as discrimination, sexuality, and the connection between money and spirituality. September 2021, she graduated with her master's in choreography (maC) at HZT Berlin and for her study, she has received scholarships from Deutschlandstipendium and Studienstiftung des deustchen Volkes.
akeminagao.wixsite.com/akemi-nagao
Evelyn Saylor is a composer of electronic music, a performer, a singer and a keyboardist. Saylor finds arresting sounds in unexpected places and explores their materiality and sonic properties in her compositions through close recording and electronic manipulation. Found and created instruments, synthesis, processing, field recordings, and the human voice play a large role in her music. She has composed work for the concert, theater, modern dance, and for film, and has received performances in the Tischlerei of the Deutsche Oper, the Akademie der Künste, HAU2, Uferstudios, Dock 11, and other spaces in Berlin, as well as in New York, California, and throughout Europe.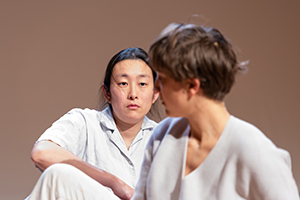 ---
with echoes filling up the orbit, but damaged
an*dre Neely & Moa Johansson
An*dre Neely & Moa Johansson's joint-practice rethinks communication to dream queer futures rooted in ecofeminism and interspecies growth. To disrupt increasingly austere politics of space, they're developing choreographic and sculptural interventions that physicalize our connection to a wider techno- and eco-logical network.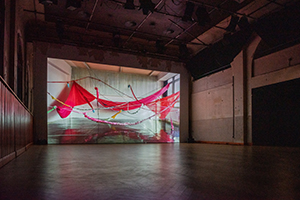 ---
LOUNGE
Marga Alfeirão
Marga (Lisbon,1994) uses media to carve safe-spaces for the exploration of intimacy and sexuality through dance and performance. Heavily influenced by dance-genres and sound textures from the african diaspora disseminated through Lisbon's social tissue, she attempts an active claim of womanhood, crossing the exercise of sensuality in public and private space. Graduated from HZT's BA in dance and choreography in Berlin (2017-2021), she is seeking to combine social dancing settings with her artistic work, together with her dance collective AMIGAS, they look to start a dance-space to host formats for interdisciplinary art in Berlin.
Myriam Lucas is a dancer, teaching artist and choreographer from San Diego, California. She began her dancing as a freestyle Hip-Hop dancer and has since moved into other urban dance forms and various contemporary movement techniques. In 2012, she received a Bravo Choreographers Prize, 'Audience Favorite', for her piece Two Fridas in 2014. She created Callous in 2014, her first full-length show inspired by the Frida Kahlo's paintings. In 2018 she completed her 3-year length BA in Dance, Context and Choreography at HTZ Berlin. She is interested in telling women's stories through an urbanistic movement lens and approach. Most importantly, she aspires to spread the knowledge about the inner workings of urban dance methodologies in artistic and practical ways.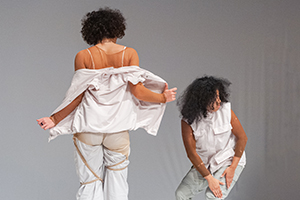 ---
between
jules_
Jules Petru Fricker (CH/RO) is an interdisciplinary artist working with choreography, dance and films. Their former stage alter ego Shiaz Legz* was born out of the experimental Berlin drag scene in 2014 as a form of liberation and a need for expansion. Fricker's self-proclaimed alien cyborg practice is rooted in queerfeminist Sci-Fi and finds ways of summoning otherworldly, utopian islands of (be)longing.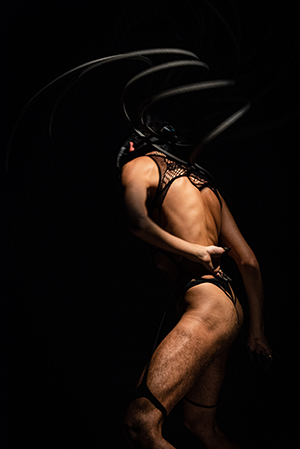 ---
DIRTY DEBÜT TEAM Björn Pätz, Joshua Wicke, Maxi Wallenhorst
JURY Anna Brammen, Björn Pätz, Daniel Schrade, Joshua Wicke, Maxi Wallenhorst
CONCEPT Björn Pätz and Sandra Umathum
LIGHT & TECHNICAL DIRECTION Susana Alonso
VIDEO DOCUMENTATION Diethild Meier
PHOTO DOCUMENTATION Anna Agliardi
A production by Björn Pätz & Sandra Umathum in coproduction with Ballhaus Ost.
Funded by the Hauptstadtkulturfonds.